Sunday, December 4, 2022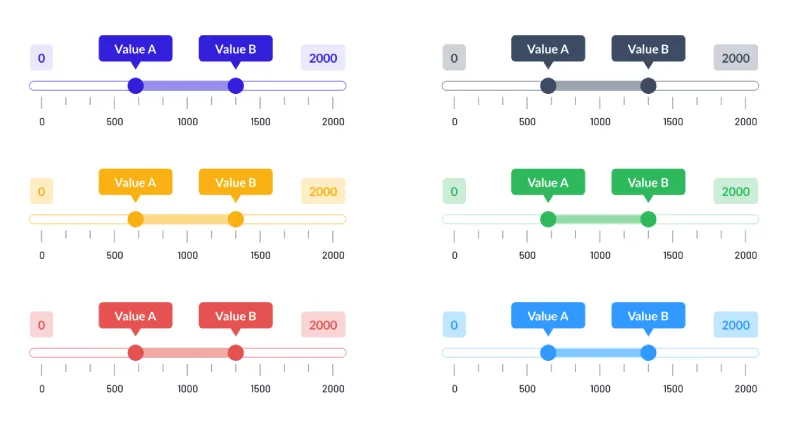 Saying that ReactJS is an open-source front-end JavaScript library for building user interfaces is like saying almost nothing. As ReactJS is maintained by Facebook and a community of individual developers and companies, it has the same response: you like it or hate it. We're in the first group, because it is widely used as a base in building single-page websites and mobile applications. We like React,js cause it's very easy to use, and it allows users to create reusable UI components.
React benefits
React.js paved and paves its way thanks to numerous advantages, which 5 seems to be the most important:
App is faster because ReactJS uses virtual dom that makes use of in-memory data-structure cache, and only the final changes are updated in browsers dom;
Reusable components - you can create components of your choice by using the react component feature and thanks to it maintenance the code easier;
Reactjs is an open-source javascript library;
Maintained by big guys - ReactJS has become very popular, it is used by many famous companies like Apple, Netflix and maintained by FB and Insta;
Rich UI, as the ReactJS can be used to develop rich UI for both desktop and mobile apps.
Let's get ready to rumble!
As the Christmas is almost here… (sic!) but you've all probably seen Xmas decorations and (strange) special offers… OMG! Did they completely forget about Halloween, Black Friday and Santa Claus?! Or maybe… these holidays are already gone? We don't want to mess with them, so… please have a look at our Top 5 React libraries (not only) for X-mas :)
CoreUI React Components library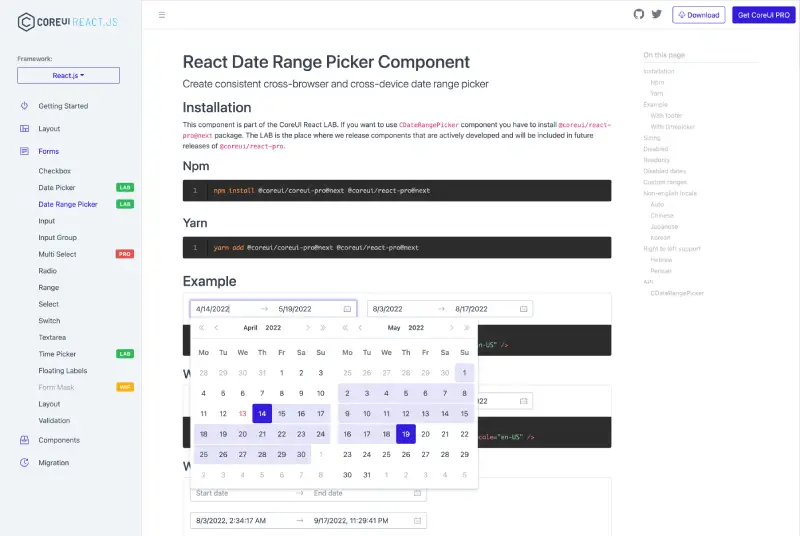 You know CoreUI's approach: keep it simple. That's why React Admin Dashboard Template & UI Components Library open a brave new world. As time is our most valuable asset, we've always wanted to help you save it by creating simple, customizable, easy-to-learn React.js UI components and React.js Admin Templates. Why? They cut the development time. CoreUI lets you save thousands of priceless hours because it has everything you need to create modern, beautiful, and responsive React.js based applications.
You can learn more about CoreUI for React here: https://coreui.io/react/
Fluent UI by Microsoft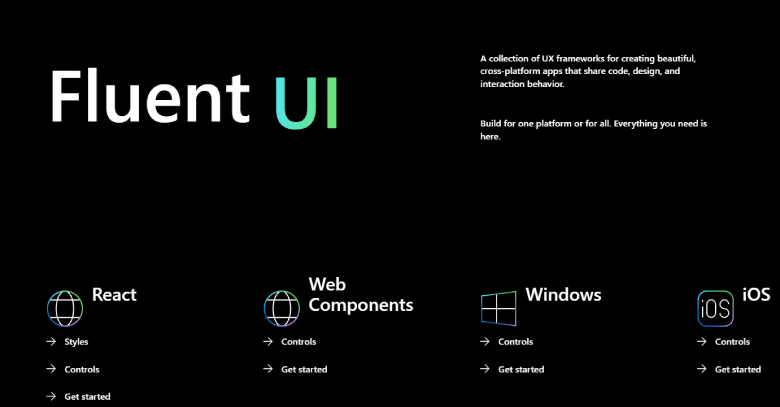 To provide users with a delightful visual experience, Microsoft has created Fluent UI, a UI design kit for React.js developers to craft intuitive user interfaces for web, desktop and mobile applications.
To provide users with the most satisfying experience, Fluent UI allows a collection of various UX frameworks that developers can use to create top-notch cross-platform applications.
Another significant advantage of this library is that it does not add any external dependencies to your project and can be easily integrated into projects using CLI or XAML. Furthermore, Fluent UI facilitates developers to share code, design, and interaction behaviour. This library is perfect for creating user interfaces for Windows applications at a considerably reduced cost.
More information about Fluent UI can be found here: https://developer.microsoft.com/en-us/fluentui#/get-started/web
Material UI React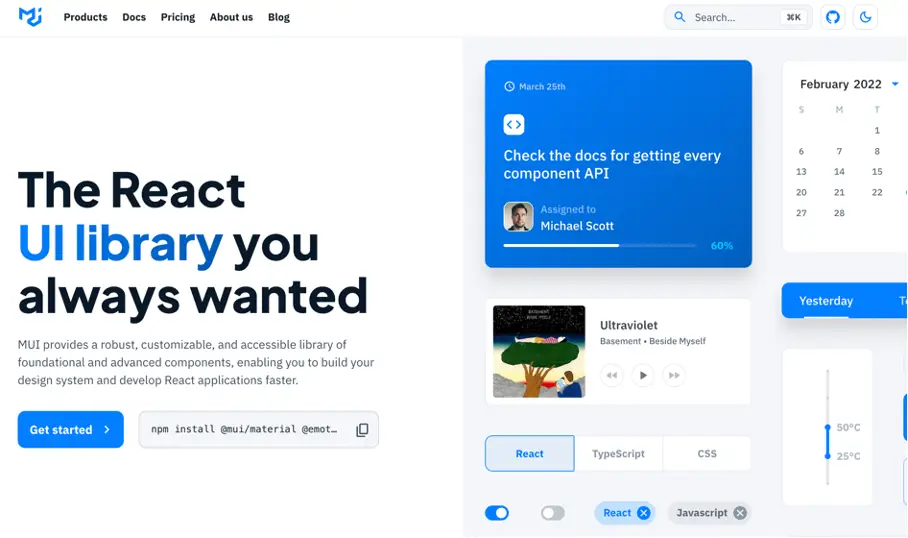 Material UI (MUI) is a collection of React components built with scalability and performance. MUI's components include buttons, forms, lists, cards and more. It is an excellent React UI framework with multiple pre-built templates and components.
Another great thing about MUI is that it is open-source, and you can customise it even further by using Google's Material Design system. Furthermore, MUI comes with the advanced theming feature that allows developers to apply the same style across multiple components and to change the look and feel of components with CSS utilities and theme settings.
MUI is a library that focuses on UI development, making the entire development process much faster and enabling full customization. Moreover, the library is suited for design needs as well.
More information is available here: https://mui.com/material-ui/getting-started/overview/
Ant Design React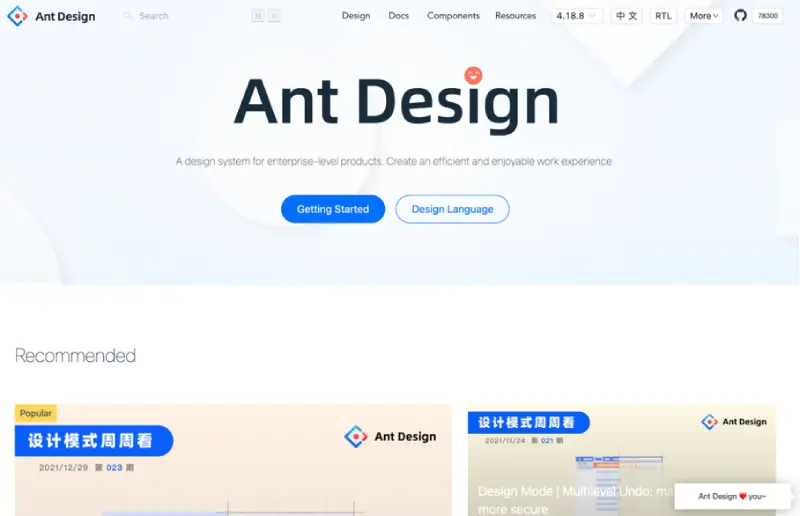 ANT Design is an enterprise-level React UI component library that provides users with customisable UI components. It is a rich UI component library for designing and developing business applications. The library utilises Ant Design's flexible components and framework, allowing users to adapt their interface to fit various needs.
Ant Design is an application UI library created by Alibaba that offers developers a collection of UI components for creating applications. ANT offers you a collection of components to make an entire user interface framework as per your requirements, or you can use individual components to create applications or websites that are visually appealing and interactive.
With its rich documentation and helpful tutorials, Ant Design is a framework that empowers developers to build advanced and feature applications. Moreover, the Ant Design comes with valuable documentation for newbies. It also boasts several advantages, such as a vast component and theme repository and an easy customization process.
More information is available here: https://ant.design/docs/react/introduce
React Bootstrap
Compared with other libraries, React-Bootstrap is more versatile and optimises performance by providing native Bootstrap components as pure React components.
Furthermore, all JavaScript is converted to React and bundled together to offer quicker performance. React-Bootstrap is a set of React components that are alternatives to the Bootstrap components. Each component comes with its props and styles to support all of your Bootstrap customization needs.
You can take your existing Bootstrap themes and seamlessly integrate them into your project using React-Bootstrap. This library of components enables developers to utilise the power of React with Bootstrap themes.
It is the oldest and most famous library of React UI frameworks and components. Also, it is beginner-friendly and provides visual guides to help you quickly customize and integrate them into your projects. For website or app design, this library is the top choice of developers and designers.
More information is available here: https://react-bootstrap.github.io/
Ready for more X-Mas?! ;)
That's our Top5 React Component Libraries. Top 5 of the libraries we like and use on a regular basis. And what's your story behind? Do you use the same libraries or maybe there's something else that has stolen your heart?