Wednesday, July 6, 2022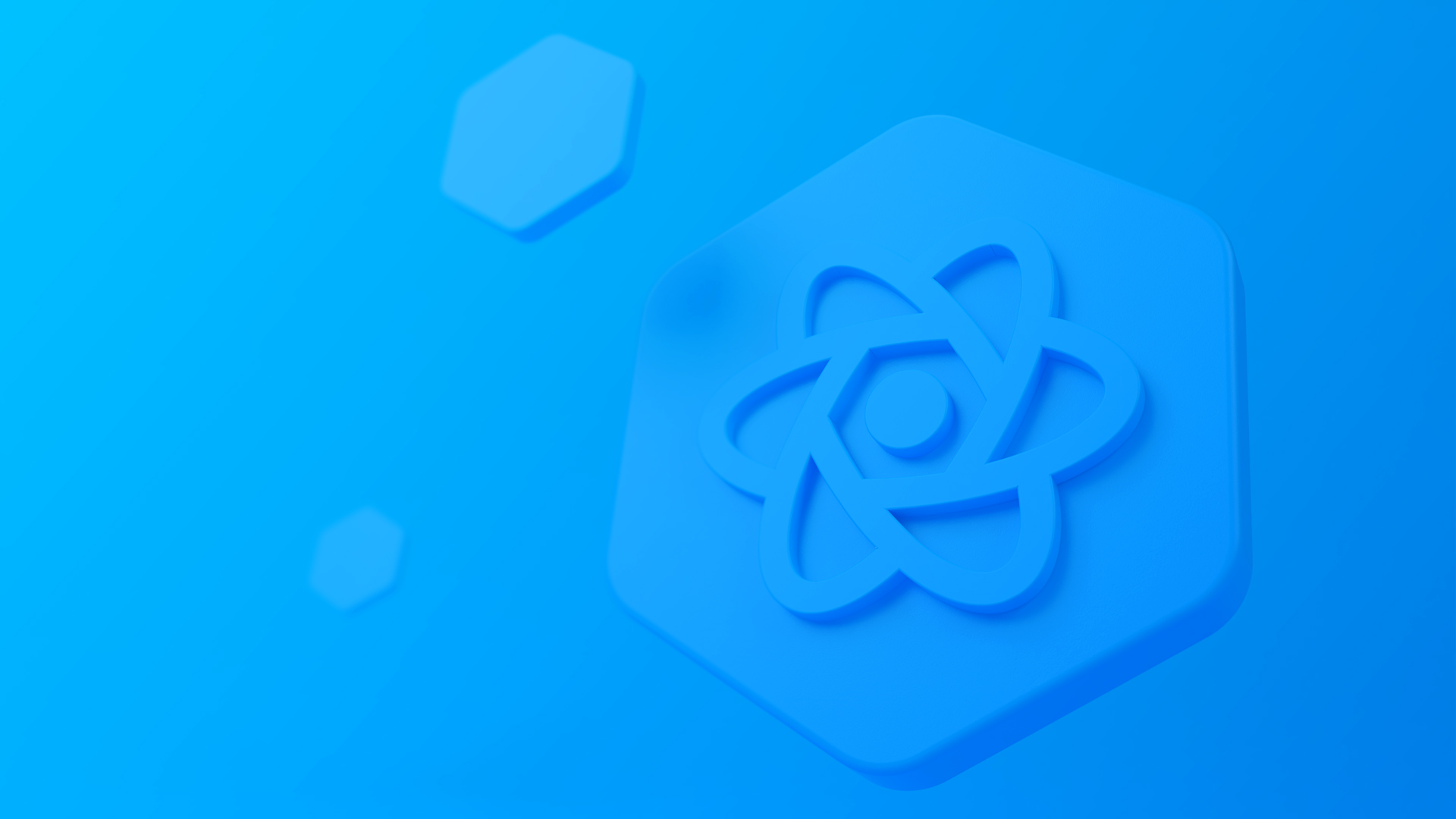 Searching for the right tools for the job has always fascinated developers. Many front-end developers agree that using a widely accepted framework keeps your code lightweight yet robust. That is why many programmers are switching to the React UI Framework - a leading framework that enables effortless runtime performance in cutting-edge UIs.
It ticks all the boxes when building high fidelity, reusable components that can handle high loading and rendering scenarios.
With React, you can design, build and understand a user interface that scales across screens and the browser by separating its data layer from presentation logic. React UI framework and component libraries are at the core of JavaScript to enable unique and highly customisable user experiences.
Today's post is about the 8 Best React UI Framework and Component Libraries in 2022. So, let's start.
CoreUI React UI components library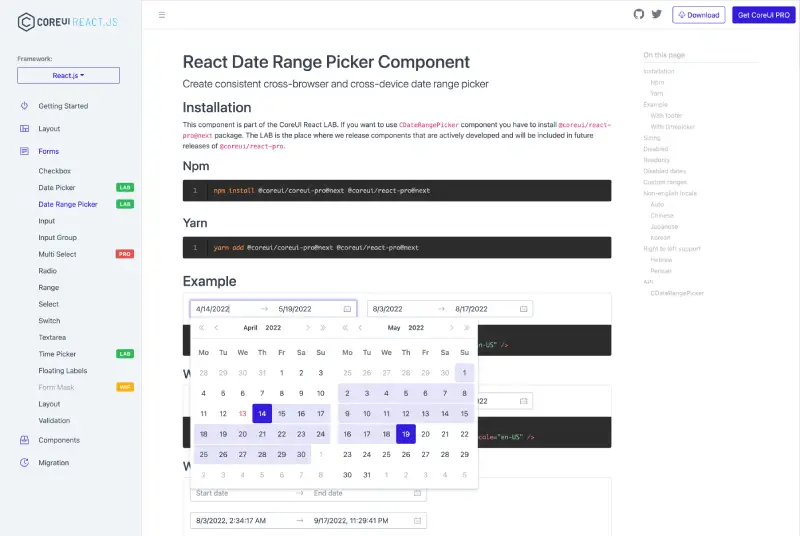 You know CoreUI's approach: keep it simple. That's why React Admin Dashboard Template & UI Components Library open a brave new world. As time is our most valuable asset, we've always wanted to help you save it by creating simple, customizable, easy-to-learn React.js UI components and React.js Admin Templates. Why? They cut the development time. CoreUI lets you save thousands of priceless hours because it has everything you need to create modern, beautiful, and responsive React.js based applications.
You can learn more about CoreUI for React here
React Bootstrap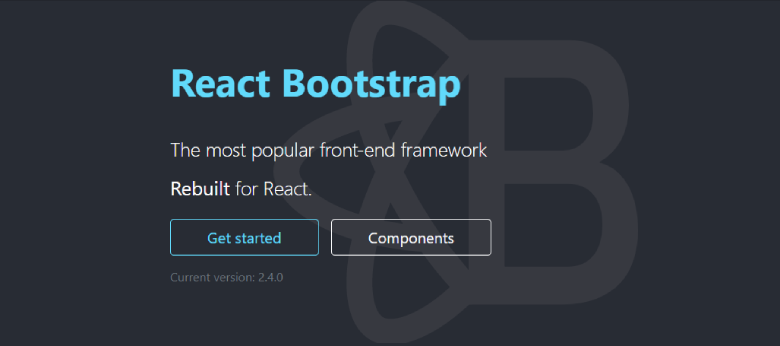 Compared with other libraries, React-Bootstrap is more versatile and optimises performance by providing native Bootstrap components as pure React components.
Furthermore, all JavaScript is converted to React and bundled together to offer quicker performance.
React-Bootstrap is a set of React components that are alternatives to the Bootstrap components. Each component comes with its props and styles to support all of your Bootstrap customisation needs.
You can take your existing Bootstrap themes and seamlessly integrate them into your project using React-Bootstrap. This library of components enables developers to utilise the power of React with Bootstrap themes.
It is the oldest and most famous library of React UI frameworks and components. Also, it is beginner-friendly and provides visual guides to help you quickly customise and integrate them into your projects. For website or app design, this library is the top choice of developers and designers.
Ant Design

ANT Design is an enterprise-level React UI component library that provides users with customisable UI components. It is a rich UI component library for designing and developing business applications. The library utilises Ant Design's flexible components and framework, allowing users to adapt their interface to fit various needs.
Ant Design is an application UI library created by Alibaba that offers developers a collection of UI components for creating applications. ANT offers you a collection of components to make an entire user interface framework as per your requirements, or you can use individual components to create applications or websites that are visually appealing and interactive.
With its rich documentation and helpful tutorials, Ant Design is a framework that empowers developers to build advanced and feature applications. Moreover, the Ant Design comes with valuable documentation for newbies. It also boasts several advantages, such as a vast component and theme repository and an easy customisation process.
Semantic UI React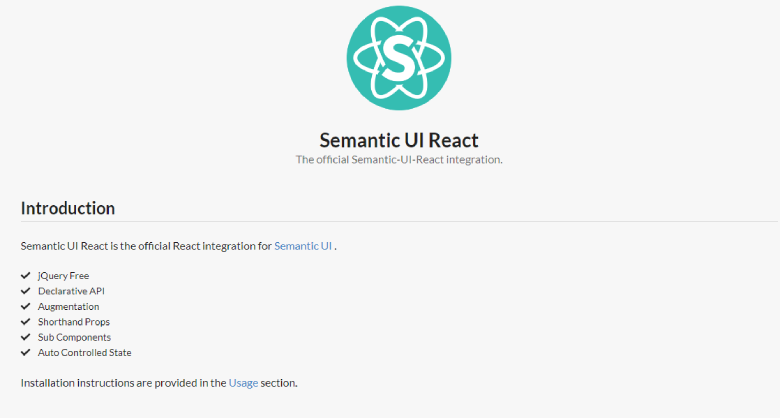 Semantic UI React is a UI framework that empowers developers to build a responsive and scalable mobile app. It helps them achieve component-based development while enabling them to utilise the power of React frameworks in a maintainable and modular fashion.
Semantic UI is an open-source framework that focuses on creating HTML code that is user-friendly and easy to understand for both developers and end-users. It provides multiple versions of a single component that developers can customise for various screens and devices.
In addition, the framework provides styles that can be applied to HTML elements without interference from CSS files, making it easier and faster for developers to implement applications on par with modern web standards.
Material UI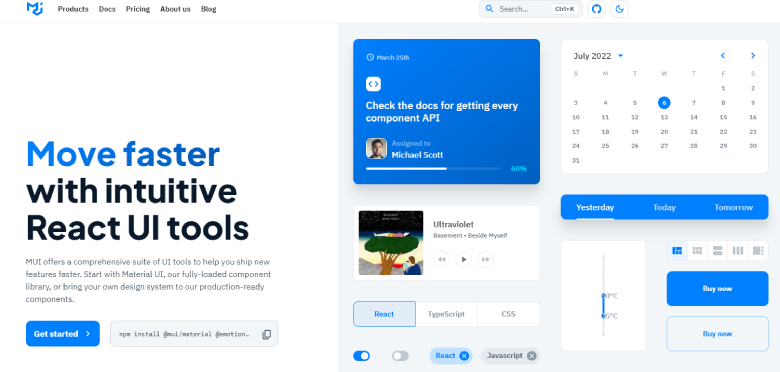 Material UI (MUI) is a collection of React components built with scalability and performance. MUI's components include buttons, forms, lists, cards and more. It is an excellent React UI framework with multiple pre-built templates and components.
Another great thing about MUI is that it is open-source, and you can customise it even further by using Google's Material Design system. Furthermore, MUI comes with the advanced theming feature that allows developers to apply the same style across multiple components and to change the look and feel of components with CSS utilities and theme settings.
MUI is a library that focuses on UI development, making the entire development process much faster and enabling full customisation. Moreover, the library is suited for design needs as well.
Fluent UI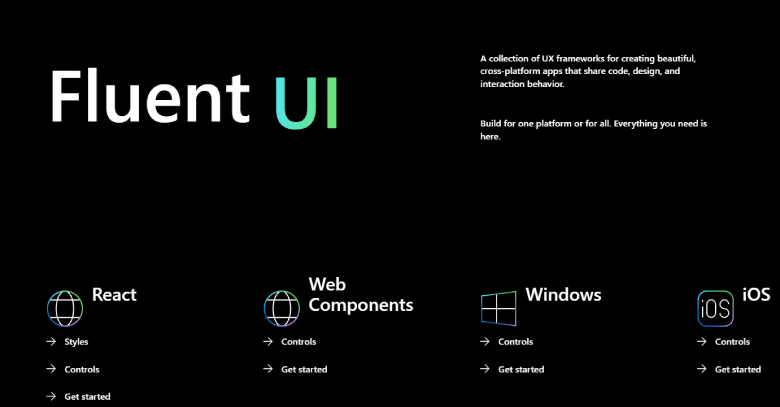 To provide users with a delightful visual experience, Microsoft has created Fluent UI, a UI design kit for React.js developers to craft intuitive user interfaces for web, desktop and mobile applications.
To provide users with the most satisfying experience, Fluent UI allows a collection of various UX frameworks that developers can use to create top-notch cross-platform applications.
Another significant advantage of this library is that it does not add any external dependencies to your project and can be easily integrated into projects using CLI or XAML. Furthermore, Fluent UI facilitates developers to share code, design, and interaction behaviour. This library is perfect for creating user interfaces for Windows applications at a considerably reduced cost.
Chakra UI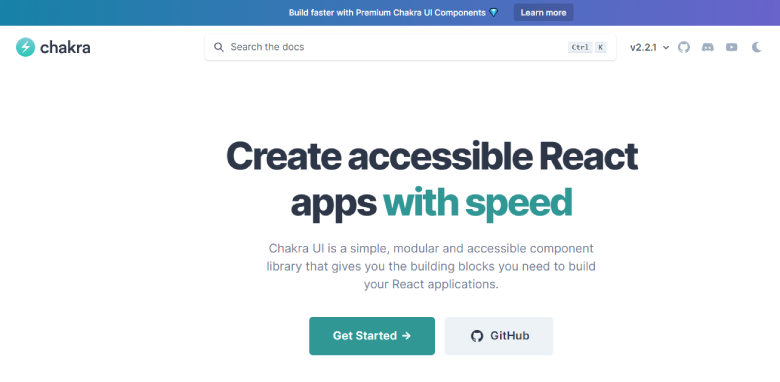 Chakra UI is an intuitive React UI framework developed to develop websites and React applications. Chakra UI library helps you accomplish that with its multiple colour modes that can be accessed via custom CSS styling. It is highly extensible and customisable and can be easily integrated into your react application.
Chakra has a lightweight and minimal structure to make it easy to work with and customise based on the needs. Segun Adebayo developed the React UI framework. This UI is simple and intuitive and provides plenty of features for rapid web development. It is also easy to integrate with your existing web application or build a new one without starting from scratch.
Reusable components of Chakra help developers in creating powerful user interfaces for their projects. These components can be easily customised and styled with the colours of your choice. Chakra provides an ecological approach and helps you quickly and efficiently develop complex and responsive websites.
Blueprint UI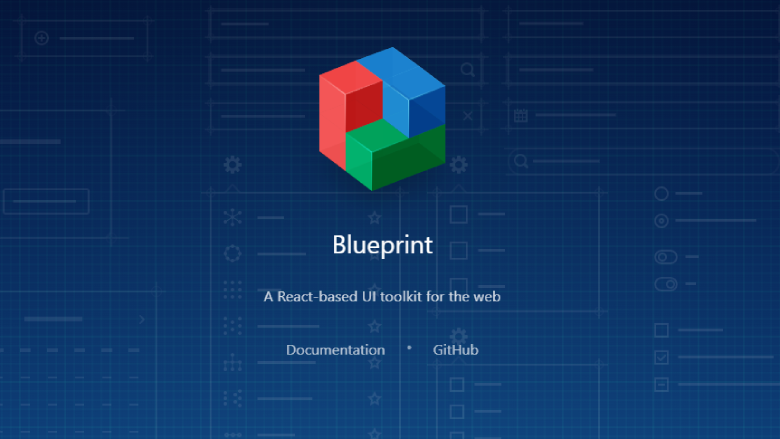 Blueprint UI is a state-of-the-art user interface framework designed for desktop applications. The UI framework is complex to build data-heavy web interfaces with multiple components and modules. Blueprint UI offers a simple and elegant interface for creating rich interactive applications. This UI framework is scalable and can be modified to suit different screen sizes.
Blueprint is a feature-rich application that empowers you to create professional applications at a fast pace. Extensive documentation is provided in a series of tutorials that guide you through the application's UI and features so you can master the application quickly.
The UI framework is optimised and handles complex UI logic with ease. Blueprint is user-friendly and reduces the learning curve for developers who are new to the framework.
Conclusion
In conclusion, React UI frameworks and components libraries mentioned above are the best among all the existing libraries and frameworks over the internet. It is suitable for beginners and beneficial for advanced developers due to its compatibility and unique features. The frameworks and libraries mentioned above have multiple unique features and tools that make them outstanding and better than others.
Therefore, looking ahead to creating a feature-rich website or application using React, look at our post and find an ideal solution for your project. Also, you can reach out to reactJS developers for hire who can build react applications for you as per your requirements and business needs.
So, which React framework or library have you found the most appealing?